President Trump Signs First Veto of Presidency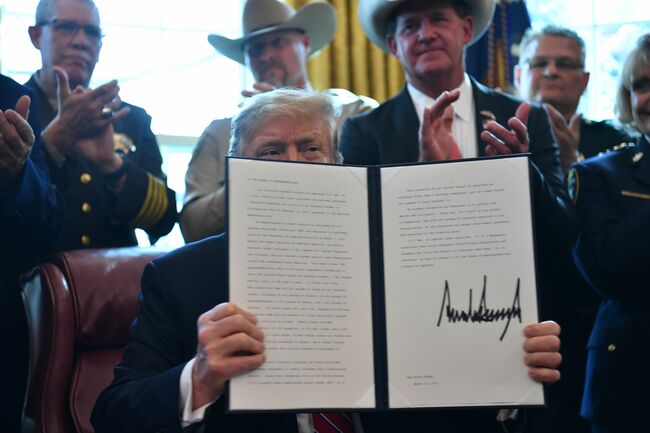 President Donald Trump signed the first veto of his presidency today, rejecting a congressional resolution that would block his national emergency declaration order.
Trump made the emergency declaration last month to unlock billions in funding to build a wall on the southern border with Mexico. The order bypassed Congress who rejected Trump's multi-billion dollar funding request.
"Congress has the freedom to pass this resolution and I have the duty to veto it," Trump said in the Oval Office on Friday. "I'm very proud to veto it."
Relatives of people who have been killed by illegal immigrants and law enforcement officials joined Trump as he signed the veto Friday afternoon.
"As president, the protection of the nation is my highest duty," Trump said, adding that there is "definitely a national emergency" at the border.
"I was elected by a very, very great group of American people. Millions and millions of people because they want security for our country and that's what we are going to have," Trump said.
On Thursday, twelve Republicans in the Senate joined Democrats in a 59-41 vote to approve a House-passed measure that would have revoked his national emergency declaration. The emergency order by Trump aims to redirect more than $6 billion in federal funding toward the construction of hundreds of miles of border barriers.
Photo: Getty Images